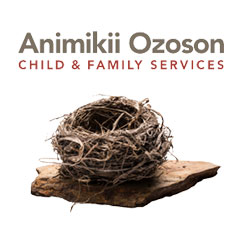 Position: Family Services Supervisor  
Agency: Animikii Ozoson Child & Family Services
Location: Winnipeg Office
Closing Date: 12 noon, Monday, December 18, 2017 
---
---
Animikii Ozoson Child & Family Services is seeking one Family Services Supervisor to work out of the Winnipeg Office located at 3rd floor - 313 Pacific Avenue.
Reporting to the Director of Services, the incumbent will participate as a management team member and provide leadership to a team of Services to Children and Families workers. Demonstrated ability to supervise case managers, provide staff with direction in case management, child protection assessment and ensuring program service delivery needs are met. Incumbent will be responsible to provide support, direction on permanency planning to workers with an understanding of the cultural needs and traditions of the families and communities.
Responsibilities/ Duties:
Oversees case management and case planning to help families maintain children in their own homes, thereby diverting these children from entering agency alternate care,
Oversees children in alternate care placement and maintains culturally appropriate and community connections for each child,
Oversees family reunification services to help children in care safely return to their natural or extended family, thereby exiting agency alternate care,
 Strengthening client services for the youth who are permanent ward of the agency,
Fulfilling management team and individual unit or program supervision roles;
Provides comprehensive staff training in the areas of: transitioning/long-term planning;
Develops effective staff and working teams through a comprehensive process of team building, staff training, and program planning,
Supervises implementation and evaluation consistent with the agency's strategic plan; support services assessment, foster home assessment, family group decision making, incorporating a Medicine Wheel approach,
Providing supervision and case management direction to ensure that the organization complies with relevant provincial and federal legislation;
Serves as a member of the management team to help the agency address organizational challenges, service issues, staffing needs, change management issues and incentives for employees, volunteers, committee members, etc.;
Ensuring that agency policies, procedures and guidelines are implemented and adhered to by staff, including reporting requirements, file recording expectations and other duties associated with frontline workers;
This position within our organization may require the incumbent work outside agency hours of operation,
Works collaboratively with Ontario First Nations CFS agencies: to repatriate permanent wards whenever possible and appropriate and to develop extended family and community supports for permanent wards exiting care or being transferred to the Ontario agency,
Networks with community stakeholders, government agencies, other CFS agencies, other aboriginal organizations to improve youth in care outcomes,
Other supervisory duties as assigned
Qualifications / Requirements
MSW/BSW, with a minimum of five years direct child welfare experience in a mandated child and family agency (may consider under fill).
Willingness to work from a aboriginal perspective/values.
Computer literacy in Microsoft Office, data base systems, email and use of the Internet.
A valid Manitoba Driver's License and access to a reliable vehicle are required, as the position requires travel within the city and to First Nations communities.
Satisfactory Criminal Record Check, Child Abuse Registry and Prior Record Check.
Ability to speak Cree or Ojibwa is considered a definite asset.
How To Apply
We thank all who apply, however, only those selected for interviews will be contacted.
---
PLEASE SUBMIT RESUME WITH COVER LETTER AND 3 REFERENCES TO:
---