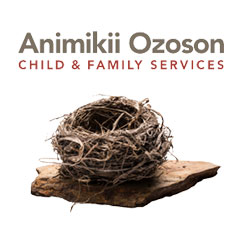 Position: Ontario Intake 
Agency: Animikii Ozoson Child & Family Services
Location: Winnipeg Office
Closing Date: November 8, 2018 @ 4:00pm
---
---
Reporting directly to the Family Enhancement Supervisor, the Ontario Intake/Intake Worker is responsible for receiving intakes for both Ontario and Agency Intake regarding children and families.
Working as part of a team, reporting to the unit supervisor, and providing services under the CFS Act and the Adoptions Act, the incumbent will be responsible for resource development within the agency's Family Enhancement Program, including assisting with the development of policies and procedures for intake and courtesy services.
Responsibilities/ Duties:
Provides intake services to families that have an ongoing open file with an Ontario agency, and are permanently residing and/or temporarily in Winnipeg;
Provides short-term services and prepares transfer and/or intake information to ongoing agency unit, other Manitoba agency or other Ontario agency.
Ability to uses the Protocol Agreement between Ontario agencies and AOCFS to determine if AOCFS or ANCR responds to concerns from source of referral at intake;
Provide consultation regarding investigation and case management assigned investigator, assigned staff and supervisor;
Work with All Nations Coordinated Response Network, Hospitals, Ontario Child Welfare agencies and coordinate brief and/or ongoing services for children and families;
Develop and maintain a collaborative working relationship with Ontario Family Services;
Receive and respond to intakes calls/drop ins on all cases open to AOCFS
Provides documentation to ongoing case manager and supervisor ensuring that interventions are documented in CFSIS and printed for file.
Assess and triage intake calls
Assists case managers with CFSIS compliance
Other duties as required
Qualifications / Requirements
BSW with a minimum of 2 years working in a mandated child and family services agency;
Able to Register, or in current good standing, with the Manitoba College of Social Workers;
Able to travel to Ontario including remote First Nations community;
Demonstrated experience with CFI S a n d Intake Module
Ability to liaise with various collateral organizations and groups;
Proficiency in Microsoft Word, Excel, Access and Outlook;
All hiring is subject to a satisfactory Criminal Records Check and Child Abuse Registry Check
How To Apply
We thank all who apply, however, only those selected for interviews will be contacted.
---
PLEASE SUBMIT RESUME WITH COVER LETTER AND 3 REFERENCES TO:
---